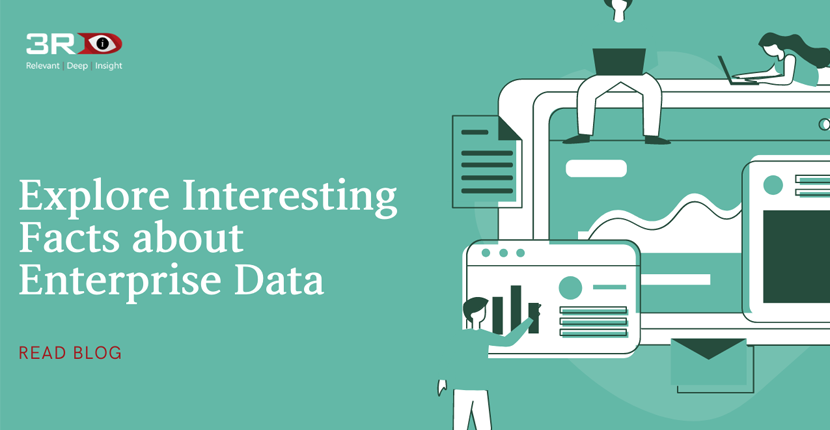 10 Interesting Facts About Enterprise Data
Author:3RDi Admin
Added:03 Nov 2020
What is enterprise data and how is it different from the data that we see and come across on the World Wide Web? Well, the differences are quite a handful, but one of the key differences is that while the data on the internet is optimised for the search engines, enterprise data is unstructured and non-optimised. If you are wondering why, it is because the data that gets stored in the databases of enterprises today is automatically fetched from numerous sources and is present in multiple formats.
This is the reason analysis of enterprise data is beyond the scope of the keyword-based technique that works well for web content. This is where an advanced enterprise search platform like 3RDi Search comes into the picture in order to make sense of the large volumes of enterprise data. Curious to know more about enterprise data? Here we bring for you ten interesting facts about the large volumes of data that is collected and stored by enterprises today.
Bad data costs organizations as much as 10-20% of their revenue
A 10% increase in data accessibility would give a company approximately $65 million more in annual net income
By the end of 2020, one third of all data will be stored, or will have passed through the cloud, and we will have created 35 Zb worth of data
The volumes of data are exploding, with more data having been created in the past two years than in the entire previous history of the human race
Data is growing faster than ever before and by the year 2020, about 1.7 megabytes of new information will be created every second for every human being
Retailers who leverage the full power of big data could increase their operating margins by as much as 60%.
Brands and organizations on Facebook receive 34,722 Likes every minute of the day.
The volume of business data worldwide, across all companies, doubles every 1.2 years
The influx of data is putting a strain on IT infrastructure, with 55% IT firm reporting a slowdown
Poor data across businesses and the government costs the U.S. economy $3.1 trillion dollars a year
The data with the enterprises across the globe is growing at a rapid pace like never before and handling this data is emerging as one of the biggest challenges for enterprises today.
Want to explore more about Enterprise Data? Read Enterprise Search in 2020 and Beyond.