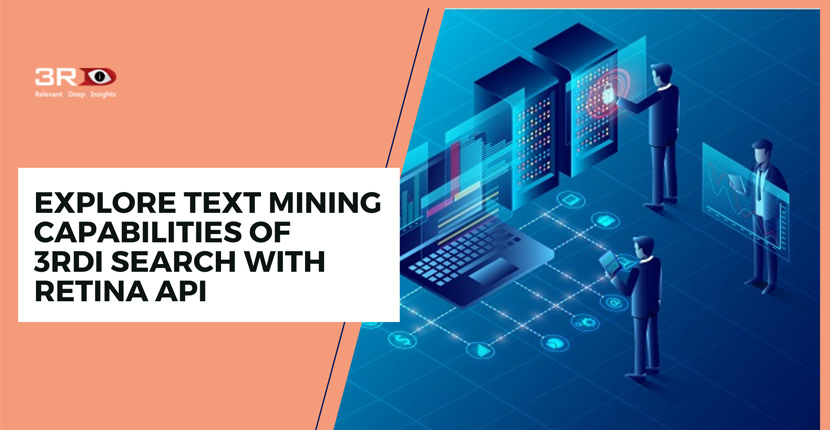 Discover Retina API: The Text Mining Engine of 3RDi Search
Author:3RDi Admin
Added:16 Apr 2021
In an era when enterprises are struggling with managing the large volumes of enterprise data, text mining is something that every enterprise needs today. Text mining platforms can help enterprises streamline data analysis and management and also, make the best use of data by leveraging its potential for business growth. It is a fact that enterprise data is a goldmine of insights that can help enterprises make informed decisions to propel business growth and gain the competitive edge.
However, analyzing this data is not easy as most of it is unstructured.
84% of enterprise data consists of unstructured data. - Statista
The new age enterprise search platform is designed to serve the purpose of helping enterprises derive hidden insights from the large volumes of unstructured enterprise data that is ever increasing. These platforms are power-packed with features that can derive the most hidden insights from enterprise data. 3RDi Search is an enterprise search platform that has every text mining capability that you would need in order to leverage the power of data for business decisions.
Text Mining with 3RDi Search
3RDi Search is an enterprise search platform that serves as a comprehensive suite of products for all your Enterprise Search needs offering best-in-class solutions for Content Discovery, Semantic Enrichment, Governance, Analytics, Relevancy Management and Automated Testing. While the whole stack can do wonders for your business by reducing the costs and generating revenue, you still enjoy the flexibility to pick and choose solutions as per your needs.
Retina API is the Natural Language Processing (NLP) and Text Mining engine of the 3RDi Enterprise Search Platform. It helps you see through the unstructured content and discover hidden facts powering an elevated search experience. It comes configured with a comprehensive set of thesauri and taxonomies and can also be integrated with your custom (and legacy) vocabularies. You get the benefit of a ready-to-use, yet, flexible semantic enrichment which can be adapted quickly to suit any specific domain.
Key Capabilities of Retina API
Now that you have been introduced to Retina API, let us have a quick look at some of the text mining capabilities of the text mining engine that powers 3RDi Search.
1] Data Analytics
Analyze, visualize and share information with 3RDi Search Analytical software. It's a business intelligence and data analysis tool for enterprises. We bring analytics from every corner of your enterprise business together in one place, so that you can uncover insights and measure related outcomes. Get access to the right Data to improve operational efficiency, serve customers better and boost revenue.
2] Relevancy Management
3RDi Relevancy Management tool allows you to extract statistically relevant words from unstructured data. The viability of this feature depends on the nature of the data being explored. The terms that are extracted with the Relevancy Management tool are truly relevant to the subject matter. It's a dynamic tool that helps to define, measure, improve and control the delivery of information that supports key organizational processes.
3] Semantic Search & Analysis
The 3RDi Enterprise search platform is powered by Semantic Search and Analysis Capabilities, which means a deeper approach to search that is based on the meaning and context of the query. Semantic search enables the platform to understand the context of a user's query and then fetch the results that are of the highest efficiency. The semantic search and analysis functionality is based on advanced algorithms that identify the context of every query and process the results accordingly.
4] Content Integration
Content integration functionality of the 3RDi Search enterprise search platform makes sure all of the enterprise data, from the diverse sources, are available on a single platform. Experience the ease of managing and analysing this data like never before. The 3RDi Search Content Integration Platform ensures your new data systems are in seamless integration with your legacy systems for a smooth flow of data.
5] Research Case Management
The Digital Group's 3RDi Search is a unique combination of search and analytics that helps the user find and understand the information more clearly and efficiently to make better informed decisions. The research case management of 3RDi Search improves the search experience of our customers and partners by grouping all the related information together.
Want to explore how an advanced enterprise search platform like 3RDi Search, powered by a text analysis engine like Retina API, can help your enterprise get the deepest insights from unstructured data? Visit www.3rdisearch.com, catch up with the 3RDi Search product video drop us an email on info@3rdisearch.com and our team will get in touch with you.
Read: How Data Discovery with 3RDi Search Can Help Your Enterprise
Connect with 3RDi Search on Social Media.