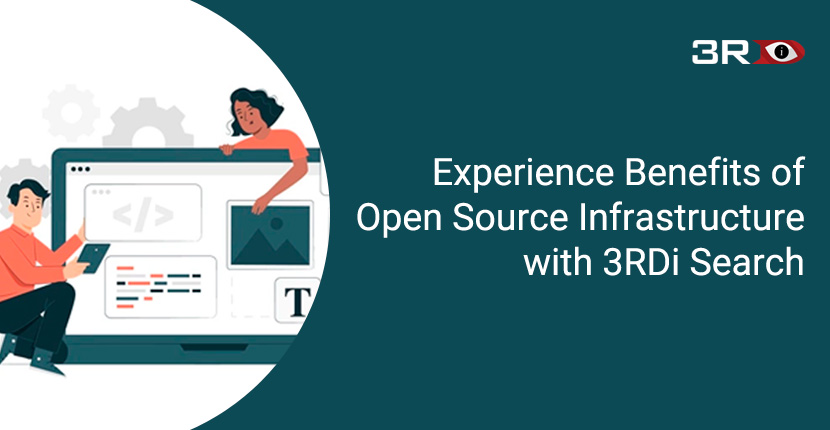 Experience Benefits of Open Source Infrastructure with 3RDi Search
Author:3RDi Admin
Added:11 Nov 2021
What is open source? It is defined as software released under a license that implies the owner has given the rights to use, analyze, modify and distribute the software as well as its source code to anybody and for any purpose. It is a software that is developed in a collaborative manner. It is a platform that allows any user to make improvements in the code, which results in continuous improvement. Open source offers multiple advantages and today, enterprises across the globe are looking forward to the implementation of open source infrastructure.
Unlike commercial web solutions, Open Source software incorporates all of the benefits of both commercial and Open Source web solutions: high-quality source code, reliable and high performance, and excellent security against hacker assaults or takeover of business-critical corporate sites.
Today you have open source software in every domain and enterprise search is no exception. Many of the new age enterprise search platforms are based on an open source infrastructure that allows you to experience the benefits of open source. 3RDi Search is an example of an Enterprise search platform that offers an open source infrastructure as it is based on Solr – a widely used open source enterprise search engine. Here we shall look at the benefits that the open source infrastructure of the 3RDi Search Enterprise Search platform brings to you.
Benefits of Open Source Infrastructure
The following are the key benefits of open source infrastructure that 3RDi Search offers.
Easy Access to Support
When you use open source software, you will have a lot of help. The majority of open source support is free and accessible through internet communities. Many software businesses also offer free online support as well as various levels of paid support. The majority of companies that develop open source software also provide maintenance and support.
Advanced Security
Commercial open source has a proven track record when it comes to information security. Obviously, it's tough to claim complete security for any solution, and it's a difficult scenario for all of us, but the open source community and manufacturers have been highly attentive to information security issues. An advantage of open source is that the entire community has had eyes on code that's decades old, and they've been able to discover and address problems as they arise, rather than having the code sit alone in a proprietary environment where few knew about its potential.
High-quality software
Open source software is of high quality. The source code is available when you use open source software. The vast majority of open source software is well-designed. Open source software can also be utilized to code effectively. For these reasons, open source software is an excellent choice for businesses.
Speed of Implementation
Speed is enabled through open source. One of the biggest benefits of open source is the flexibility to use community versions to get started, figure out if they can solve your business challenge, and start delivering value right away. Professional support and services for open source products are becoming increasingly available once you've made that decision.
Easy Scalability
You can start small and quickly with community versions of open source, then graduate to a commercially supported solution if your business needs dictate. You can use the community version forever if your project does not require assistance. You can try out many options, pick the one that works best for you, and then scale up with a commercial solution.
Want to implement the next level of enterprise search with the 3RDi Enterprise Search platform? Visit www.3rdisearch.com or drop us an email at info@3rdisearch.com and our team will get in touch with you.