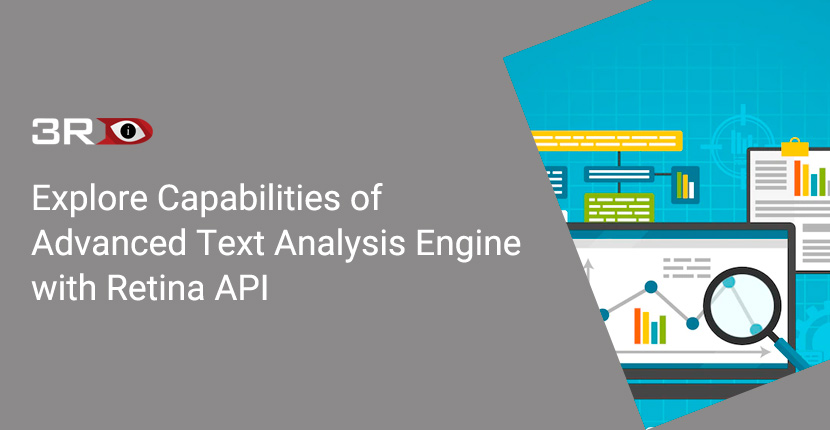 Explore Capabilities of Advanced Text Analysis Engine with Retina API
Author:3RDi Admin
Added:18 Mar 2022
The objective of the new age enterprise search platform is to assist businesses in gaining hidden insights from the vast volumes of unstructured enterprise data that are constantly growing. These platforms are jam-packed with tools for extracting the most valuable insights from corporate data. 3RDi Search is an enterprise search engine with all of the text mining capabilities you'll need to use data to make better business decisions.
Text mining software can assist businesses in streamlining data analysis and management, as well as maximising data's potential for corporate success. Enterprise data is a treasure trove of insights that may help businesses make informed decisions that will fuel their growth and provide them a competitive advantage.
The 3RDi Enterprise Search Platform's Natural Language Processing (NLP) and Text Analysis engine is called Retina API. It enables you to see through unstructured enterprise data and bring out hidden insights, resulting in the next level of search experience. It comes pre-configured with a large number of thesauri and taxonomies, and it can also be linked with customized (and old) vocabularies. You gain the advantage of a ready-to-use, yet flexible semantic enrichment that can be readily tailored to suit any domain.
Building Blocks of Retina API
The following are the building blocks of the Retina API text analysis engine of 3RDi Search.
1] Semantic Search & Analysis
Through the Retina API text analysis engine, the 3RDi Enterprise search platform is powered by Semantic Search and Analysis Capabilities, which means a more in-depth approach to search based on the meaning and context of the query. Advanced algorithms of the text mining software understand the context of each query and interpret the results accordingly, allowing for semantic search and analysis.
2] Research Case Management
The Retina API text analysis engine is a unique blend of search and analytics that lets users find and comprehend information more simply and effectively so they can make better decisions. By collecting all related material together, Retina API's research case management improves our customers' and partners' search experience.
3] Data Analytics
Retina API, which powers 3RDi Search Analytical software, is an advanced text analysis engine that allows you to analyse, view, and share data. The text analysis engine boosts operational efficiency, enhances user experience, and boosts improved decision making by gaining access to the correct data.
4] Data Integration
The Retina API text analysis engine of the 3RDi Search enterprise search platform's content integration capabilities ensures that all enterprise data from various sources is available on a single platform. To ensure a smooth data flow, the Content Integration solution of 3RDi Search guarantees that your new data systems function in concert with your existing data systems.
5] Relevancy Management
The Retina API's Relevancy Management function helps in extracting statistically significant phrases from unstructured enterprise data. The effectiveness of this functionality is determined by the type of information that is being analyzed. It's a dynamic tool for defining, measuring, improving, and managing information dissemination that supports important business activities.
Wondering how you can leverage the power of an advanced text analysis engine? You need a powerful text mining software like 3RDi Search. Visit www.3rdisearch.com/ or drop us an email at info@3rdisearch.com and our team will get in touch with you to help you get started on your journey of adding more value and meaning to the experience of the user with every interaction with the search engine.