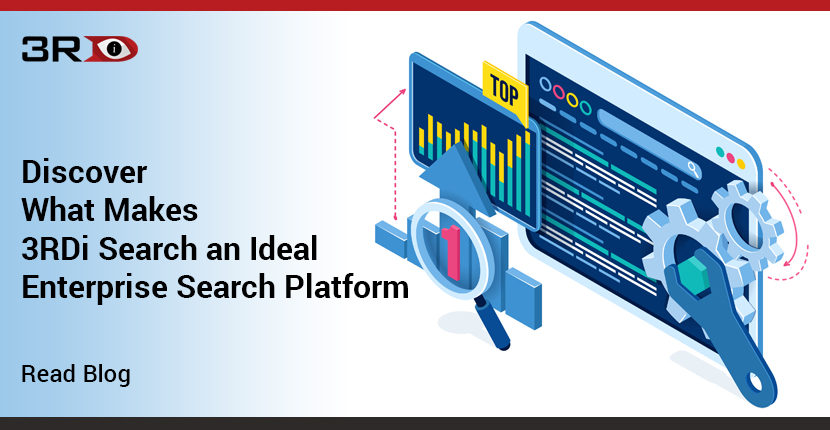 Explore the 3RDi Search Advantage for Enterprise Search
Author:3RDi Admin
Added:27 Oct 2020
Analyzing enterprise data is one of the biggest challenges faced by enterprises today, and it is because the enterprise data is complex and unstructured. This data cannot be analyzed using the traditional keyword-based approach and so needs to be analyzed using the latest advanced technology for data mining and text analysis. Natural language processing (NLP), Artificial Intelligence (AI), machine learning, etc. are just some of the technology that we use today to make the best sense out of the large volumes of unstructured and unoptimized data that gets collected and stored by enterprises.
This is exactly where the role of the new age enterprise search platform like 3RDi Search comes into the picture. 3RDi Search is an advanced text mining and text analysis tool with every text mining capability that enterprises today can ask for. It is a complete suite of text mining technology designed to help enterprises analyze the most complex unstructured data with utmost accuracy, every time.
The 3RDi Advantage
What makes 3RDi Search a must-have platform for your enterprise is the fact that it is a customizable suite of enterprise search functionalities, which means enterprises have the option to pick and choose the functionalities they need for their specific text analysis requirements.
The 3RDi Search team works closely with your business and engineering teams to first understand your unique challenges, requirements and data monetization strategies. We then rapidly (and this is key) synthesize a customized solution, based on our semantic search platform, tailoring it to suit your unique needs. A typical 3RDi Rapid-Search Implementation engagement would cover discovery, conceptualization, planning, design, engineering, implementation and support in the following areas:
Data Acquisition, Aggregation, Integration
Data Shaping, Enrichment and Standardization
Search, Discovery and Semantic Relevancy
Iterative Customer-Driven Prototyping
Rapid 3RDi-Accelerated Search Implementation
Search Relevancy Testing and Tuning
Capacity and Infrastructure
Managed Support Services
The 3RDi Search Rapid Enterprise Search implementation cuts down development and release cycles and costs by at least 50-60% and empowers organizations with cutting-edge semantic search and discovery capabilities in addition to faster time-to-market cycles at significantly lower costs across the Capital, OPEX and TCO perspectives.
While "Search" is at the core of all 3RDi-based solutions, what you get is a much broader set of comprehensive data capabilities that spans data acquisition, search, research, discovery, data mining, and analytics, allowing you to leverage organizational data assets optimally.
Why Choose 3RDi Search
It takes a significant amount of time, costs and efforts to mature any search implementations for enterprises. 3RDi Search provides ready to use research tools that enable faster implementation of your enterprise search needs.
Explore how 3RDi Search helps enterprises Overcome Content Integration Challenges.