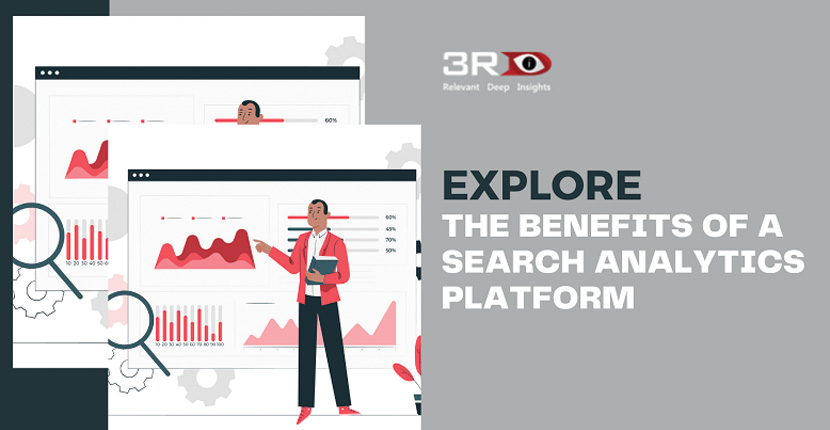 Explore the Benefits of a Search Analytics Platform with 3RDi Search
Author:3RDi Admin
Added:05 Jul 2021
What is Search Analytics? Wikipedia defines Search Analytics as "Search analytics is the use of search data to investigate particular interactions among Web searchers, the search engine, or the content during searching episodes."
Talking about Enterprise Search, a thorough examination of the search logs can reveal information about your search performance, including if your enterprise search software is meeting your users' expectations. To put it another way, search logs can tell you how satisfied your users are with their search results. You'll need search analytics to evaluate your search logs and obtain the business insights you're looking for.
3RDi Search is an example of a search analytics tool that is powered by search analytics technology through its Retina API, which is one of the platform's primary capabilities.
Significance of Search Analytics Platform
The search team must evaluate search behaviour to ensure enterprise search success: top searches, zero hits, misspellings, and synonyms spring to mind and these are just the basics. It's also an excellent opportunity to identify popular content, as well as content that appeared in search results but was never read.
Enterprises may understand user behaviour using an advanced search analytics platform, which is based on advanced text analysis techniques. What are the most commonly terms people search for? What kind of outcomes are they primarily searching for? Are users getting the results they want?
It is critical for enterprise search engines' algorithms to penetrate deep into the thoughts of users in order to find answers to these questions. The search analytics platform needs insights for this, and these insights are, not unexpectedly, hidden within the search logs, ready to be discovered! As a result, a search analytics platform is the key to understanding user behaviour and making the greatest use of it to draw business insights that help your establishment improve the user experience and establish a base of satisfied users.
Key Advantages of Effective Search Analytics Platform
Here are some of the key benefits that an advanced search analytics platform can bring to your business:
Identification of the most common errors users make when typing the most commonly used search terms so that the search engine may be trained to automatically correct the errors and fetch appropriate results.
Improved insights into the most commonly looked for queries, as well as those with the worst performance.
Understanding how your users utilize filters and making changes to the search path accordingly in order to make the process faster and more accurate.
Easy access to the information on the results that your users find the most relevant based on the results with the highest click rates.
An understanding about which results are bringing in the most conversions so you can make the necessary modifications to avoid losing users, in case you own an online store.
Search analytics is a relatively new text analysis concept with a long way to go. The future of advanced search analytics platforms has enormous potential, since technology holds the key to unlocking what's on people's minds. As technology advances, there will be a lot more to learn about things we can't even imagine right now.
Want to implement the next level of search analytics capability to get the most out of your complex enterprise data? Visit www.3rdisearch.com or drop us an email at info@3rdisearch.com and our team will get in touch with you.