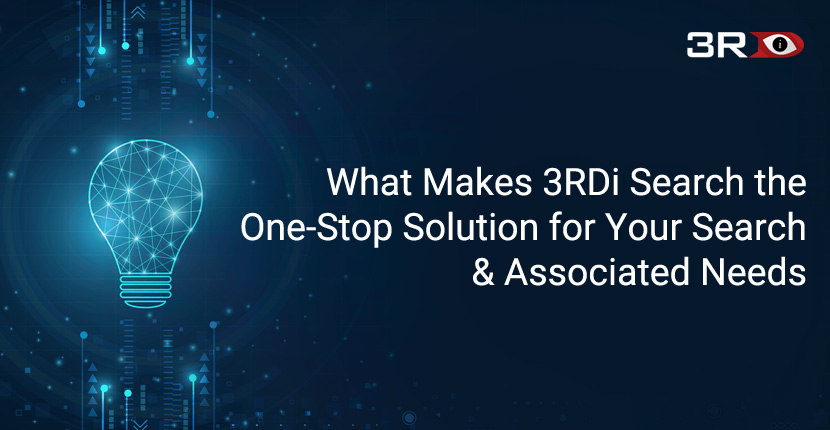 What Makes 3RDi Search the One-Stop Solution for Your Search & Associated Needs
Author:3RDi Admin
Added:03 Nov 2021
Enterprise search needs to be more effective today than ever as we are living in an era where enterprise data is not just increasing in volume but also getting more complex than ever. The enterprise search platform has considerably evolved over the years to cater to the evolving needs of the enterprises today, that are increasingly looking for ways to leverage their data. Today, you have advanced enterprise search platforms like 3RDi Search that offer every possible feature that enterprises need for all of their search and associated needs.
So, what makes 3RDi Search the only Enterprise Search platform your enterprise will ever need? It's because the platform is more than just a search platform – it's a full suite of Enterprise Search products with best-in-class solutions for Content Discovery, Semantic Enrichment, Governance, Analytics, Relevancy Management, and Automated Testing.
Next Level of Enterprise Search with 3RDi Search Platform
So, what are the capabilities of the 3RDi Search Enterprise Search platform that make it the one-stop solution for all your search and associated needs? Let's have a quick look in the infographics below.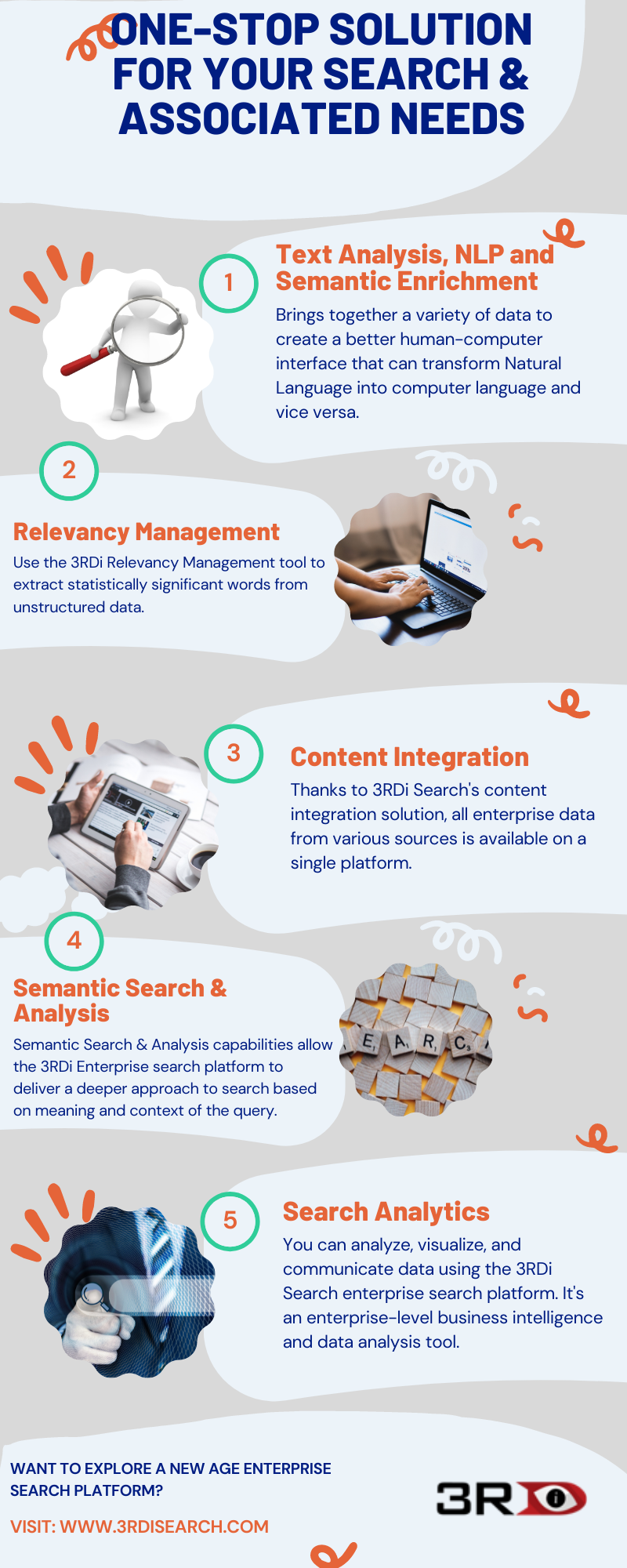 1] Text Analysis, NLP and Semantic Enrichment
Best-in-class text mining capabilities are included in the 3RDi Semantic Enrichment tool, which provides an Interactive, Engaging, and Predictive solution for today's search and associated applications. The 3RDi Natural Language Processing Software application adds a variety of metadata to information, allowing it to be widely distributed and the platform to be used for a number of purposes and content types.
This text analysis tool brings together a variety of data sources, data types, structured, semi-structured, and unstructured content, such as text, photographs, and videos, to create a better human-computer interface that can transform Natural Language into computer language and vice versa. It examines grammar and writing skills in a word processing text. In summary, the platform can read human language with no errors and visualize content in a variety of ways, including HTML tables, maps, charts, and more.
2] Relevancy Management
Use the 3RDi Relevancy Management tool to extract statistically significant words from unstructured data. The type of data being reviewed determines the utility of a business search engine's relevance management feature. The Relevancy Management tool of the 3RDi Enterprise platform extracts terms that are relevant to the topic at hand. It is a dynamic tool that facilitates in the definition, measurement, improvement, and management of essential organizational processes' information distribution.
3] Content Integration
Thanks to 3RDi Search's content integration solution, all enterprise data from various sources is available on a single platform. You'll be amazed at how simple it is to handle and analyze this data. The 3RDi Search Content Integration Platform ensures that your new data systems work in tandem with your existing data systems to ensure a smooth data flow.
4] Semantic Search & Analysis
Semantic Search and Analysis Capabilities, one of the most important elements of an enterprise search engine, allow the 3RDi Enterprise search platform to deliver a deeper approach to search that is based on the meaning and context of the query. Semantic search allows a platform to comprehend the context of a user's query and present the most relevant results. Advanced algorithms recognize the context of each query and interpret the results accordingly, making semantic search and analysis possible.
5] Search Analytics
You can analyze, visualize, and communicate data using the 3RDi Search enterprise search platform. It's an enterprise-level business intelligence and data analysis tool. The corporate search engine's search analytics capabilities brings together analytics from throughout your company in one place, allowing you to find new insights and follow their effects. By obtaining access to the correct data, you can improve operational efficiency, better serve customers, and enhance revenue.
Want to implement the next level of enterprise search with the 3RDi Enterprise Search platform? Visit www.3rdisearch.com or drop us an email at info@3rdisearch.com and our team will get in touch with you.