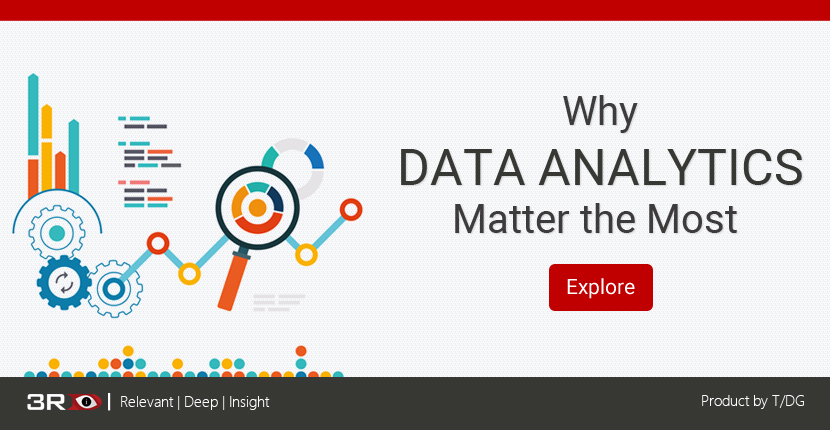 Why Analytics Matter the Most in Healthcare
Author:3RDi Admin
Added:30 Oct 2018
Well, let me start off with saying Healthcare is no stranger to changes. Challenges have always been there along the way and are constant, but so too have been the solutions. Healthcare is turning into a consumer driven industry, and providers are not only competing to create the most attractive, intuitive and impactful experience for the people around. The healthcare system, which is increasingly data-reliant. Hence, Data Analytics, if used effectively in the healthcare system, has the potential to improve patient care. This is because it can help derive useful insights on the systemic wastes of resources, can track the performance of individual practitioners, and can even track the health of populations and identify the people who are at risk for chronic diseases.
The Road Blocks of Effective Analytics
As the average human life is increasing around the world, it poses new challenges to today's treatment methods. And one of the biggest hurdles is how to use the data in the medicine. As the medical data is spread across many sources governed by different states, hospitals, and administrative departments. Integrating these data sources would require developing a new infrastructure where all the data is collaborative.
The Need for Analytics
As a Mc.Kinsey report states, after 20 years of steady growth, currently 17.6 percent of the GDP of the United States is represented by healthcare expenses, which is "Nearly $600 billion more than the expected benchmark for a nation of the United State's size and wealth.", according to the report. In other words, the cost is a lot higher than expected and it is speculated to be on the rise, which indicates that the need for smart driven thinking in this area. The 3 very important terms are Predictive, Promising Patient care! Collaborating the clinical and financial data allows effective diagnosis and treatment against the alternatives.
The Advantages of Analytics
Given below are the key advantages of using Analytics in healthcare.
Advanced patient care:

The gap between the clinical providers and the administrators can be filled. The availability of the patient information in one platform facilities for informed decision-making at the time of emergency or care which, in turn, results in the following:

Personalized care
Customer experience
Improved Engagement & Relationship

Real time Monitoring:

Proactive care using data analytics to monitor a patient's vital signs, is referred to as real time monitoring. All this massive data is collated and by using an analytical approach, healthcare institutes can monitor and deliver strategies accordingly. Physicians can effectively intervene in the time frame and use the insights gained from data analytics to save a life.

Accurate algorithms to predict admission trends in the future are extremely useful to allocate additional staff on the days where higher number of patients are expected.

EHR- Electronic Health Records:

Electronic Health Records (EHR) means there is no paper work or no risk of duplication as records are updated instantly with the adoption of the data analytics. This emerging trend finds its application in integrating dashboards in custom applications and EHRs that hospitals regularly use which sends trigger alerts and reminders when patient needs treatment/lab tests.

Predictive Analysis:

With predictive analysis, doctors are capable of taking spot decisions and improve treatment for patients with complex medical history or patients suffering from multiple medical conditions.
The Outcome of Analytics in Healthcare
Several companies out there are diving into the Healthcare space with new dimensions and they are offering a speedy implementation and proactive customer support. Given below are some of the companies with products that cater to analytics in healthcare.
IBM's Watson Health: HIPAA enabled and also cloud based data analytics platform enabled. It is designed to effectively utilize Big Data for clinical integration, predictive analytics and business intelligence.
Cerner's HealtheIntent - A cloud-based Enterprise and Population health management platform designed around specific analytical use cases, using data across health continuum.
Health Catalyst - A platform that is designed to bring together, link and organize health data from different sources and make it available to all users. Its Adaptive Data Architecture is what works in its favour. Instead of taking months or years to implement the new system, Health Catalyst is implemented within weeks. It is developed to work on a wide range of products.
Epic - The Company's software is found in hospitals, clinics, university research centers, patient's homes and even on smartphone apps.
Amazon Web Services (AWS) - On the technical side, Amazon Web Services (AWS) is also broadening its wings to the healthcare system, offering many capabilities to make most of the Big Data, using machine learning as one of the service tools.
Apple – Apple Inc. has ventured into wellness monitoring with Apple watch and iPhone apps. It's all about DATA and more DATA.
Data analytics, is similar to Big Data in some aspects, but focuses more on smaller and structured data sets. Companies employ global qualitative and quantitative methods to investigate how data is influencing business processes, offerings, and engagement with customers. The new players like The Digital Group (T/DG) provide power packed features for data analytics in their product 3RDi Search. T/DG believes that a systematic approach to analysis of unstructured data will help organizations reap the benefits of using data-driven insights for informed decision making. The opportunities for return on investment, in the form of new revenue generated as well as cost-savings, are significant too.
The Next Generation is all about the analytics in the healthcare industry that will unlock incredible possibilities in the future. However, before we can go ahead and experience the many benefits, we must make attempts to remove the road blocks and take the necessary steps to incorporate the analytics tool in every sphere of the healthcare domain.