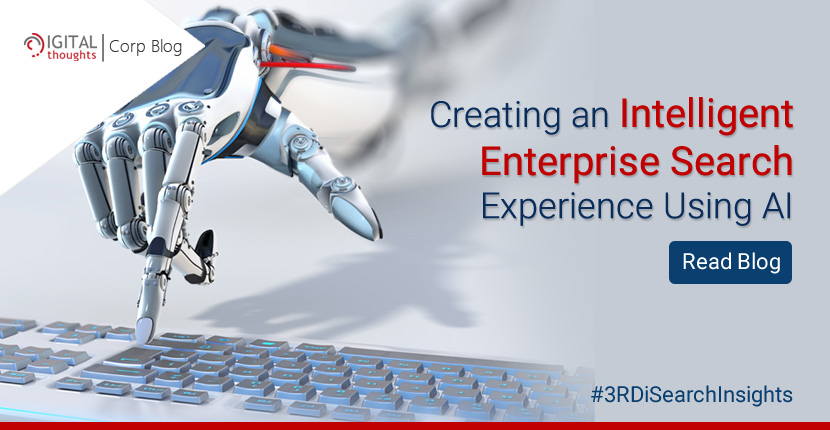 Artificial Intelligence (AI) Turns Enterprise Search into Intelligent Search
Author:3RDi Admin
Added:25 Mar 2019
Did you know that 54% of global information workers are interrupted from their work a few times or more per month to spend time looking for or trying to get access to information, insights, and answers?
This statistic by Forrester research indicates that an intelligent search tool is the need of the hour, if organizations want to improve the efficiency and productivity of employees. So, what is an 'Intelligent Search' all about? Intelligent Search is a phenomena introduced by new age enterprise search platforms like 3RDi Search that implies a search platform that is "intelligent" enough to understand the user and his requirement. In other words, it is a platform that creates the ultimate user experience. Talking about enhancing the user experience of software applications, a technology that is playing a key role is Artificial Intelligence (AI) as it makes it possible for applications to interact with users and understand what's on their minds. Sounds, interesting, isn't it?
How does AI Work?
Source: https://bit.ly/2UHlFhD
So, modern enterprise search platforms are powered by AI which is changing the way we look at search as well as the way people interact with machines. But how does AI work? Let's try to find out.
Gone are the days when interacting with an enterprise search engine was about typing in keywords and browsing through a long list of results with lots of patience to figure out the ones that were the most relevant. Today, thanks to AI based content classification, search platforms can now customize search terms according to the user behavior. Yes, an AI based enterprise search engine studies and records the pattern of user behavior for every user and suggests customized search terms or keywords that will be the most useful to the user.
Also, AI technology enables the enterprise search engine to access the content within images, videos and other forms of multimedia, thus enabling users the power to access content that was never accessible with the traditional keyword based search.
The most breakthrough concept about AI is its ability to self-learn, which means it can leverage data from the search log analytics to study user behavior and tweak the results accordingly, so that the users are always presented with the most relevant results, without the need for any kind of human intervention.
Creating an Intelligent Search Experience with AI
Source: https://bit.ly/2CynmXB
So, what is the end result of implementation of AI technology in enterprise search? How does it make a difference to the end user? Here are some pointers.
1] Query Completion: Query completion is a feature which guides users to the most relevant query when they use the enterprise search platform, which prevents them from wasting time typing queries that don't bring the desired results.
2] Display of Related Searches: This is another feature of an enterprise search platform based on AI technology. This feature uses words from the query typed in by the user to suggest related search queries that the user is likely to find useful.
3] Display of Related Information or Articles: Using this feature, the enterprise search platform studies the articles or other forms of content that is most relevant to the user, based on the ones on which the user spends the most time or clicks the most often, and suggests related articles and other information that might help. This way, the user gets access to a collection of the most relevant articles within the shortest time, which in turn improves his/her search experience.
The Final Word:
Well, intelligent search is no longer an option, but is gradually emerging as the need of the hour for enterprises. This makes AI a really powerful technology in today's times and the good news is that the future holds unlimited possibilities. Businesses need it to meet the growing demands of users who want the most relevant information at their fingertips without having to put in a lot of effort and time. And also, who can deny the importance of an intelligent enterprise search tool that makes it easy for you to analyze the enormous volumes of complex organizational data to derive insights that give you the power to drive business growth?