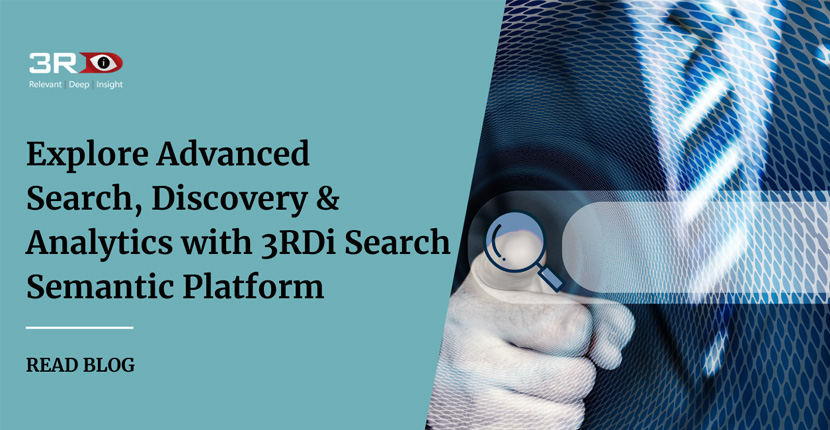 Explore a Semantic Platform for Search, Discovery & Analytics with 3RDi Search
Author:3RDi Admin
Added:04 Sep 2020
This is the age of Big Data and many data-centric organizations spend significant amounts of time and resources to acquire, aggregate, clean, enrich, standardize and manage data. There is also the goal of making the information available, accessible and discoverable with the purpose of driving operational efficiencies or generate revenues.
Even a decade or so earlier, the lack of advanced context-driven user-friendly Google-like search engines in the enterprise landscape had resulted in sub-optimal utilization, monetization and ROI on data investments. 3RDi Search – the Enterprise Search, Discovery & Analytics platform developed by The Digital Group, is powered by an advanced semantic-search engine that helps organizations find, discover, analyze, research, publish and monetize diverse, vast and complex datasets from their data assets. The platform has the capability of semantically linking it and presenting it for consumption within new or existing business applications and workflows, thereby resulting in faster ROI and gaining a competitive edge.
The semantic platform of 3RDi Search enables rapid data utilization & monetization within data-driven enterprises and is supported by the managed data & applications engineering and support services, providing end-to-end data & solutions lifecycle management.
The 3RDi-platform-based Rapid Enterprise Search implementation cuts down development and release cycles and costs by at least 50-60% and empowers organizations with cutting-edge semantic search and discovery capabilities in addition to faster time-to-market cycles at significantly lower costs across the Capital, OPEX and TCO perspectives. While "Search" is at the core of all 3RDi-based solutions, what you get is a much broader set of comprehensive data capabilities that spans data acquisition, search, research, discovery, data mining, and analytics, allowing you to leverage organizational data assets optimally.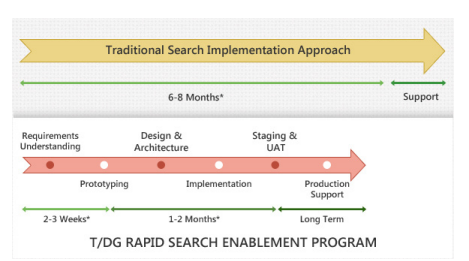 The capabilities of the 3RDi Search platform also extend beyond text search with image search capabilities using different image matching and text extraction algorithms. Search Relevancy is always a significant challenge in most search implementations and is usually a major time-consuming and non-trivial sphere of focus and effort. The 3RDi Relevancy module is an extremely powerful declarative relevancy tuner and manager that provides a single unified workbench for your power-users and search administrators to manage and maintain search relevancy – without any programming or search engineering knowledge.
The platform cache subsystem of 3RDi Search is designed to enhance the caching layer over conventional search engine cache architectures. It is designed to work with application specific requirements, predict user behaviour so as to reduce cache misses and to speed up search response times. It addresses some of the common search problem patterns such as deep pagination, heavy result sizes, multiple session loads and high frequency terms.
The 3RDi Search platform is built on top of some of the most widely used and mature open source technologies and frameworks, with Apache Lucene at its core. Workflow and audit trails are used to monitor and control the changes in search behaviour and any new enhancements in taxonomies.
Last but not the least, there are various ready-to-use UI widgets that are compatible with 3RDi Search and can be plugged into any standard CMS, portal or any other web based application, facilitating seamless data integration.